"Hearken to the Call of the Wild Goose™"
101 years old & he got them!

DU finds success at Burbank.

First Hunt Success

Sense the thrill of
anticipation as you hear the wings beating and the shrill 'huronk' of the goose just before the guide says:
"Take'em."

Whistling Wings


"The adrenaline will flow at the sound of the
massive goose wings,
as they come in on
final approach".

The Canadian Honker offers the waterfowl hunter the ultimate in challenge and excitement.
It doesn't get any better than this!

Burbank is located at the confluence of the Snake and mighty Columbia River, at 500 ft above sea level.
The lowlands have a micro-climate with little snow, which enables success all season long. The rivers bring'em, and the fast water, our fields with food and refuges keep'em.


Click on

Jan. weekend success pic for larger version.-->

No need to go else where, whether you are an experienced goose hunter or a novice,


Burbank has

World Class Hunting

!




Ea

ch

season

brings excitment and anticipation. Be part of the action!


Our job is to bring 'em in close, and your job is to maximize the opportunity.

Proven 'Fields that Yield™'!
Proven Guides!
Proven Equipment! Finest equipment, upgraded annually.
Proven Management = Proven Results!

"Be there! Come and meet us where the Canadian Honkers congregate by the tens of thousands along the natural flyways, carved by the nightly flows of the majestic Columbia and Snake Rivers."
I would personally like to invite you to come and hunt with us. Our TV shows have given you a peek at our day to day operations. It gives me pleasure to see our hunters having a good time and it is the result of a life long dream to provide quality hunts at Burbank Guide Service. Our success is consistence and we are told by our clients that our hunts are as good or better than any hunts they have experienced anywhere in the country, or the world!

Paul Sullivan, Head Guide.

Internet aka

"Honkerguide"
| | |
| --- | --- |
| | |
Harken to the call of the wild goose

™!

Watch as the geese break off from the strings and set their wings on the final approach, to a set of life-like decoys. The majestic size and

whistle

of the wings before they graceful gliding into range, leaves the hunters speechless!

Experience BIG geese in your face, "backwinging

™

" right into the decoys!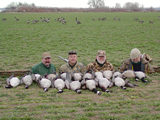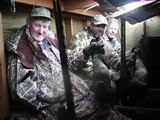 New Zealanders enjoying Washington hunting!
FULL PROFESSIONAL GUIDE SERVICE
GUIDES ARE PRO'S™
P - PROVEN
R - RELIABLE
0 - ORGANIZED
S - SUCCESSFUL

Experience World Class Hunting at its best.
All hunting is on manicured private farms we own or private leased land which are specifically managed to maintain high success throughout the season. You will find fields of corn, wheat, bluegrass, barley, etc.


What to bring:
Bring layers of warm QUIET clothes, such as Polar Fleece in tan or camo
to match our fields, or white if it is snowing. You will be outside so bring hats, gloves, warm waterproof boots, warm socks, and a water-repellent outer garment might be needed on occasion. Remember that the weather is usually cold. October temperatures range fro 20° to 70°F, while December and January temperatures range from 0° to 45°F.
Personalized Service:
Our goal is to provide quality outdoor outings, which are FUN and safe!

Call our friendly, experienced staff to arrange your hunt. 509-545-8000

No pass shooting
No sky-busting.

Burbank Goose puts you up close and personal.

Quality decoy spreads:
DropZone Elites, Full Curls, Flutter-Wings , etc.
See products at AeroOutdoors.com
Stuffers & other quality decoys
Private land scouted daily for each group
Experienced

Pro Guides

/ Expert Callers!
Pits for goose hunters are limited to 5 hunters (plus guide)
Majority of all hunting is done from custom in-ground pit blinds.
** 98% solid wall comfortable in-ground blinds. 2% other blinds.
Solid walled in-ground pits have 2 shooting drop doors.
Guide sits in the center to insure safety.
Pits are warm and comfortable.
Portable Maximus Field Blinds™ for goose

**



Geese: We harvest consistently 7 subspecies of the Canadian Goose.
The most prized is the Columbia Basin Greater, which weighs up to 12-14 pounds and has a 6 foot plus wing spread. These geese live in the Columbia basin and off the ultimate challenge all season long.

The most common migraors are: Lesser, Taverner's , Speckle belly, Richardson, and sometimes an Aleutian or Snow Goose moves over from the coastal migratory path inland to our area. Dusky geese migrate down the Pacific coast and not inland, where we are located.
For additional technical information on Geese - Click Here.
**Occasionally we use blinds other than in-ground pits. We notify the hunters as best as we can when the best opportunity for that day appears to be in blinds, other than in-ground pit blinds.
We may us a Maximus Honker Field blind, which also holds 5 hunters (plus the guide). This blind also has 2 shooting trap doors.
Or once in a while the best opportunity for success in a field may dictate using a Final Approach™ style layout blinds. We have both the X'land'r and Eliminator.