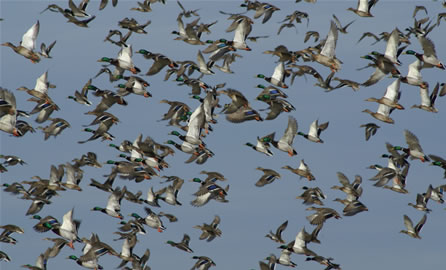 Lots of Greenheads!!
Come experience
World Class Duck Hunting
in the heart of the Pacific Flyway.
Gentlemen's hunt! Meet your guide from 8am to 10am!*
Thousands of ducks congregate on our exclusively private fields and ponds.
Primary specie is Mallards. Also we see some wood ducks, pintail, widgeons, bufflehead, etc.
Green heads are our specialty: Limit 7 per day.
We have a volunteer $5 penalty for every hen, which goes to conservation group.
| | | |
| --- | --- | --- |
| | | |
| Truck of Ducks! | Ducks in a row! | Happy Hunters! |
Our private Duck Lakes are one of the best kept secrets in the Columbia Basin!
Paul's Pond is the original lake; but now Paul has developed 3 more lakes!
Paul fine tunes & manicures his fields and blinds annually.
Great duck food; flooded corn, wheat, barley and buck wheat surround the blinds.
When is the best time to come? When you can come, is always the best time!
We do have quality shooting all season long, and balance the bird population with the hunters.
When do the migratory Mallards birds arrive?
October to the first week in November, there are more opportunities to get a mixed bag of ducks. Our properties hold a lot of local birds and various species start arriving in October.
Burbank discounts and books fewer hunts the first part of the season. The benefit of hunting at this time is the warm weather, longer hunts, fewer hunters and more duck species. Great time to introduce kids to hunting.
Around the second week of November the full migration of Mallards appear at Burbank
Then from Mid-November to the end of season, most of the hunts are very consistent.
Yes, there will always a few days when mother nature gives us a challenge, and historically we can always count these on one hand. (Wish we had a crystal ball.)

We have shot limits right up to the last day of the season in January, the last few years. Therefore our bird management procedures do work!
Convenient, enjoyable hunt days. Short distance from quality hotels with breakfasts. Meeting times are not at "O" dark thirty, but from 8-10am. Our innovative procedures enhances hunt & do not limit the shooting opportunities.
Experience shooting ease in Maximus 'Deadly Duck' Blinds
Sit in comfort and be able to watch the birds work the blind.
Enjoy your guide's expert calling ability.
See the finest decoy spread available.
Custom Full Curl Duck decoys with Velvet Feather finish for added reality.
Combo Hunts: Best to book separately, to be guaranteed the hunts. More info on combos.
Bonus species. Few geese work the ponds, so this is not a typical bonus combo location. The first few weeks you may get some duck shooting in the goose pits, with head guides approval. Your guide may limit the shooting, depending on how the birds are working the blinds. Of course the goal is to fill your bag with the bird specie you choose.

All hunts are guided and all hunters must exercise safe handling of their guns.
Hunters must be aware of other hunters at all times, the guides location, the dogs location and be able to discern the decoys from the birds!

Our blinds hold five hunters plus your guide. Blind buy out varies, but during high season it is 10 hunters.
During full migration 2 blinds may used, close to one another, but everyone gets separate opportunities to shoot individually. Each hunter knows the birds he/she has bagged.
All lost/wounded birds count towards bag limit.
Dogs: Only one dog per blind. The first to book space has the opportunity to bring their dog.
The guide will have his dog as a backup. It is imperative that we quickly retrieve all birds, and not allow the dog to 'jump' or flare the birds.
Therefore, be prepared with a kennel for your dog, in case Fido's is not having his best retrieving day. Also wear wader or hip boats to assist in handling your dog. Bring a leash.
Sometimes the guide will allow you to continue to use your dog, if you have filled the blind with your guests/hunting partners, but missed opportunities due to poor retrieves, excess time taken in retrieving, having to yell/call/direct the dog or a dog which does not hold at shot will limit your overall opportunities to shoot from the blind.
What to bring:
Since you will be hunting from an above ground blind, the wind chill factor increases.
Bring layers of warm, wind blocking QUIET clothes (Polar Fleece, saddle cloth or?) in camo print to blend into corn fields or pond brush (green or tan-not dark woods camo preferred.)
Neck gators are recommenced, especially ones which can cover the face.
You will be outside so think layers. Bring face mask, hats, gloves, warm socks and a water-repellent outer garment. Hot packs are recommended on cold days, especially for hands/feet.
In the cold months layer up with long underwear.
Waders are not needed, but the extra warmth is welcome during cool months.
If you are not wearing waders, bring rubber bottom boots. The do not have to be high, but enough to keep you dry from the damp/wet ground. Make them insulated for cold months.
Be prepared for cold weather, since October temperatures range from 20° to 70° , and December and January temperatures are from 0° to 45°.
Shot shells, gun and licenses/stamps.
Cooler to take birds home, plastic bags for the birds and other associate needs.
Camera, film or picture storage cards, beverage (not alcohol) and snacks.
<----------See more pictures, on the left side menu.
Duck Hunting Shell Info:
You will be shooting at birds at close ranges, landing into the decoys. No pass shooting.
Only duck loads in the duck blinds. Do not bring goose loads.

Bring only 2 3/4" 12 gauge shells for hunting on Paul's Ponds.
This is a regulation for our guide service.(However 3" 20 gauge is OK)

Plus, there are goose fields above the ponds, and we do not want to scare/flare the geese.
No 10 gauges and no 3 1/2 goose loads in the fields above the duck ponds either.
Our policies and management techniques enhance quality hunting all season long.
They work!! It is hard to argue with proven success.
Duck Hunt Info_sheet click here

Passing on our Hunting Heritage is important!


Start at an early age, and gradually introduce youth, just as you would with a young pup.
We start them on BB guns and advance from there. Shoot some trap to get them accustomed to the guns. Then, take a trip to the area in advance, explain the hunt, make sure they are warm and make the actual outing FUN (and short if very cold.)
* Yes, meeting your guide from 8AM to 10AM has proven to bring success to our hunters. This does not limit the shooting opportunities! But allows the early morning populations to not be over pressured, so they will remain on our ponds and properties, which enables us to have successful shooting all season long.

Therefore, remember to call in the business day before the hunt to affirm the meeting time.
It can change daily due to weather, etc.

CALL US! Hunt the Legendary Paul's Ponds. Try it....you'll like our hunts!
_________________________________________________________
Duck technical information
More Duck Specie Information

FAQ's, or Frequently asked questions.